Quality Trailer Suspension Parts in Greenville, SC
While pulling a trailer, it's essential to ensure that you have the right trailer suspension to make your ride comfortable. At Trailer Parts 4 U, we understand the headache and anxiety associated with loose trailer suspension parts. This is why we supply the best range of trailer suspension parts and trailer repair services in Greenville, SC and surrounding areas. You can purchase all our trailer parts singularly or as part of a trailer suspension and axle unit.
Truck drivers and trailer owners often make mistakes using the wrong suspension tools. Trailer Parts 4 U provides multiple premium suspension systems to give you peace of mind and relaxation as you haul your trailer. With our quality suspensions, you are assured of your trailer lasting longer and having less overall maintenance needed. Just contact us!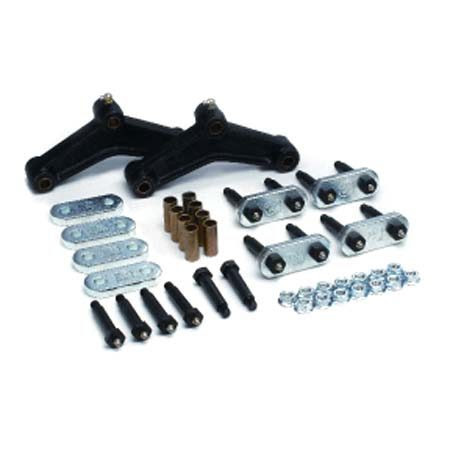 Quality Parts
Choosing the type of suspension system to incorporate with your trailer is a crucial decision as it varies with the type of trailer required for the job and the trailer to be hauled. Choosing the wrong suspension system will always lead to the trailer developing problems during hauling. With the correct trailer suspension, you are guaranteed a smoother ride while your trailer and cargo are protected — the suspension absorbs shock bumps and dips while hauling.
The different trailer suspension parts include:
Tie plates

Spring hanger kit

with eye-to-eye (can haul a weight of 2000-7000 Lbs)
Hutch 9700 kit (15,000-27,000 lbs. Axles).
Are You in Need of Quality and
Long-Lasting Trailer Suspension?
Look no further when looking for trailer parts, our trailer parts suppliers have you covered. We have over 30 years of expertise working with the trailer building services and service industries. We aim to offer you high-quality goods that are reasonably priced and delivered quickly. Reach out to us if you need anything from trailer suspension parts, utility trailer axles, Dexter axle parts, trailer accessories, trailer brakes, and more.
We offer trailer components from various manufacturers, including Hydrastar, SAF Holland, Optronics, Titan, Dexter Axle, Wallace Forge, Electric/Hydraulic Actuators, POP-UP, Tekonsha, and many others. For our quality services or more information about trailer suspensions and other parts, contact us today at (864) 509-1500 or fill out our contact form, and our trailer experts will get back to you.